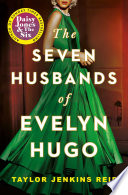 Seven Husbands of Evelyn Hugo
by
Taylor Jenkins Reid
Published by
Simon and Schuster
on October 14, 2021
Genres:
Family & Relationships / Divorce & Separation
,
Fiction / General
,
Fiction / Historical / General
,
Fiction / Romance / Contemporary
,
Fiction / Romance / LGBTQ+ / Bisexual
,
Fiction / Romance / LGBTQ+ / General
,
Fiction / Women
Pages:
400
Format:
eBook
Source:
Kindle store
Buy on Amazon

Aging and reclusive Hollywood movie icon Evelyn Hugo is finally ready to tell the truth about her glamorous and scandalous life. But when she chooses unknown magazine reporter Monique Grant for the job, no one is more astounded than Monique herself. Why her? Why now?

Monique is not exactly on top of the world. Her husband has left her, and her professional life is going nowhere. Regardless of why Evelyn has selected her to write her biography, Monique is determined to use this opportunity to jumpstart her career.

Summoned to Evelyn's luxurious apartment, Monique listens in fascination as the actress tells her story. From making her way to Los Angeles in the 1950s to her decision to leave show business in the '80s, and, of course, the seven husbands along the way, Evelyn unspools a tale of ruthless ambition, unexpected friendship, and a great forbidden love. Monique begins to feel a very real connection to the legendary star, but as Evelyn's story near its conclusion, it becomes clear that her life intersects with Monique's own in tragic and irreversible ways.

The Seven Husbands of Evelyn Hugo is a mesmerizing journey through the splendour of old Hollywood into the harsh realities of the present day as two women struggle with what it means and what it costs to face the truth.

My Thoughts
I wasn't expecting to like this book. The confessions of a Hollywood movie star didn't immediately appeal but I was intrigued when world famous, glamorous Evelyn Hugo plucked junior reporter Monique from obscurity in order to write her authorised biography. And why was Evelyn convinced that Monique would end up hating her? That had me turning the pages and I was sucked into the beautifully depicted world of old time, golden Hollywood. The shining star is Evelyn: driven, ambitious, flawed Evelyn. Cowardice, bravery and ultimately standing up for what we believe in are woven in with one of the most heartbreaking romantic relationships to grace the pages of popular fiction. I don't often cry when reading books but this finished me.