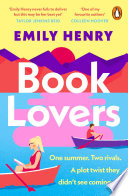 Book Lovers
by
Emily Henry
Published by
Penguin UK
on May 3, 2022
Genres:
Fiction / Family Life / General
,
Fiction / Friendship
,
Fiction / General
,
Fiction / Humorous / General
,
Fiction / Romance / Contemporary
,
Fiction / Romance / Holiday
,
Fiction / Romance / New Adult
,
Fiction / Romance / Romantic Comedy
,
Fiction / Small Town & Rural
,
Fiction / Women
Pages:
384
Format:
eBook
Source:
Kindle store

One summer. Two rivals. A plot twist they didn't see coming...Nora is a cut-throat literary agent at the top of her game. Her whole life is books.

Charlie is an editor with a gift for creating bestsellers. And he's Nora's work nemesis.

Nora has been through enough break-ups to know she's the one men date before finding their happy-ever-after. To prevent another dating dud, Nora's sister has persuaded her to swap her city desk for a month's holiday in Sunshine Falls.

It's a small town straight out of a romance novel, but instead of meeting sexy lumberjacks, handsome doctors or cute bartenders, Nora keeps bumping into...Charlie.
My Thoughts
This was my first Emily Henry book and I wasn't disappointed. First tick: that the protagonist is a smart, girlboss who is career-focussed and values her independence. Second tick: it explores the enemy to lovers trope in a fresh way although at times I thought it was trying a little too hard to subvert the romantic fiction genre and I found myself saying, nope that's one time too many declaring that this is exactly what happens in a small town romance. Third tick: the snarky banter between the two main characters was fun, and occasionally made me laugh out loud. Fourth tick: the depth added by the warm relationship between the sisters and the exploration of roles and family dynamics. A comfortable four stars.