The Familiars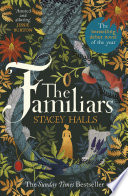 The Familiars
by
Stacey Halls
Published by
Bonnier Zaffre Ltd.
on February 4, 2019
Genres:
Fiction / General
,
Fiction / Historical / General
,
Fiction / Literary
,
Fiction / Women
Pages:
400
Format:
Audiobook
Source:
Audible
To save her child, she will trust a stranger. To protect a secret, she must risk her life . . .

Fleetwood Shuttleworth is 17 years old, married, and pregnant for the fourth time. But as the mistress at Gawthorpe Hall, she still has no living child, and her husband Richard is anxious for an heir. When Fleetwood finds a letter she isn't supposed to read from the doctor who delivered her third stillbirth, she is dealt the crushing blow that she will not survive another pregnancy.

Then she crosses paths by chance with Alice Gray, a young midwife. Alice promises to help her give birth to a healthy baby, and to prove the physician wrong.

As Alice is drawn into the witchcraft accusations that are sweeping the North-West, Fleetwood risks everything by trying to help her. But is there more to Alice than meets the eye?

Soon the two women's lives will become inextricably bound together as the legendary trial at Lancaster approaches, and Fleetwood's stomach continues to grow. Time is running out, and both their lives are at stake.

Only they know the truth. Only they can save each other...

*
My thoughts
Well written and researched story, with a beautiful cover. The 17th century isn't my favourite era for fiction but this debut historical novel from Stacey Halls was intriguing from the start. The story paints a picture of the gulf between rich and poor and the treatment of women all of which is deftly woven into the witchcraft accusations sweeping the country at the time. An assured treatment of a period in British history dominated by false accusations against women. Definitely recommended.