My Perfect Daughter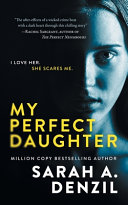 My Perfect Daughter
by
Sarah A. Denzil
Published by
Sarah Dalton
on January 14, 2022
Genres:
Fiction / Crime
,
Fiction / Family Life / General
,
Fiction / Friendship
Format:
Audiobook
Narrator:
Lucy Paterson
Source:
Audible

Most mothers hope their little girl turns out like their dad, but not Zoe. She hopes the apple falls far from the tree.

Zoe didn't meet her daughter the way most mothers do. She finds five-year-old Maddie alone and dirty on a countryside road. Frightened for Maddie's safety, she picks her up and takes her back to her father, not knowing what she's about to step into.
My Thoughts
Told over two timelines, then and now, this is a well crafted story that packs a punch. The 'then' explores the first meeting of Zoe and the 5 year old, Maddie, in nightmarish circumstances. The 'now' takes place eleven years later when Zoe has adopted Maddie and circumstantial evidence points to her committing a murder. Can Zoe trust her child? Do genetics overturn upbringing? This is an interesting and well researched exploration of the 'nature versus nurture' argument, adopting a troubled child and attachment disorder, with some effective twists and double takes. An addictive page turner with tension and suspense ramping up with each chapter. I found myself saying…noo, don't go to 'now' I need to know more about 'then'! Kudos to the narrator, Lucy Paterson, particularly her portrayal of the young Maddie. Loved it.