This book may be unsuitable for people under 17 years of age due to its use of sexual content, drug and alcohol use, and/or violence.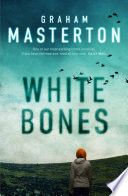 White Bones
by
Graham Masterton
Published by
Head of Zeus
on March 1, 2013
Genres:
Fiction / Crime
,
Fiction / Mystery & Detective / General
,
Fiction / Thrillers / Suspense
Format:
Audiobook
Narrator:
Caroline Lennon
Source:
Audible

One wet, windswept November morning, a field on a desolate farm gives up the dismembered bones of eleven women...

Their skeletons bear the marks of a meticulous butcher. The bodies date back to 1915. All were likely skinned alive.

But then a young woman goes missing, and her remains, the bones carefully stripped and arranged in an arcane patterns, are discovered on the same farm.

With the crimes of the past echoing in the present, D.S. Katie Maguire must solve a decades-old murder steeped in ancient legend... before this terrifying killer strikes again.
My Thoughts
It's rare that I DFN an audio book. It's easy enough to clean the bathroom or water the garden and let a book run through some boring paragraphs but I had to stop listening to this completely. It's the first in a series of books featuring Detective Superintendent Katie Maguire of the Cork Gardai. Having lived in the Republic of Ireland for a decade I enjoy books that are authentically set in Ireland and the narrator, Caroline Lennon, did a great job. Without giving away any spoilers I found it difficult to listen to some of the gruesome passages, and I'm not normally squeamish. However, I discovered that Masterton is also a horror writer and that definitely transfers to this book. I was disappointed to leave Katie Maguire with an unsolved case, I hope I can pick up another of the series that maybe isn't quite so graphic. If you have a strong stomach don't let me put you off.